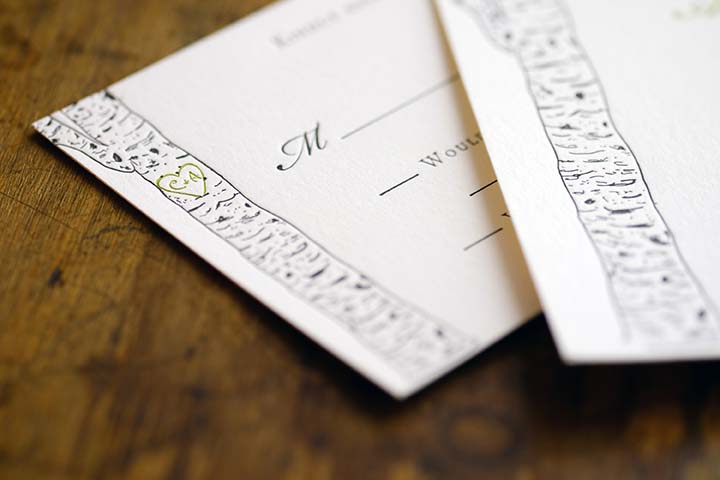 In 2005, just a few years after graduating from the School of the Museum of Fine Arts, Rob Charlton founded Goosefish Press, Inc. He had wanted his own print shop for some time, anticipating that it would become a weekend job in which he collaborated with artists to print a variety of works. Letterpress, his medium of choice, quickly changed the course of his business, opening the doors to printing stationery and invitations. Goosefish press developed into a full-time job, complete with a storefront and line of beautiful paper goods. Rob says he never thought he'd be known for making wedding invitations, but he's thrilled to own and operate one of Boston's most beloved stationery shops.
Opening a storefront has changed the way Rob works. Prior to moving to SoWa, he describes himself as a hermit, hidden away in his shop. Being a part of a community has opened up Rob's process and expanded his art to include cards, coasters, and books he and his team produce in-house for the more casual visitor. Rob has created a space for people who love fine printing, paper, and books; he finds great joy in seeing visitors delight in his shop.
Yet, his favorite part of operating Goosefish Press is and has always been the invitations. It's what he does most often. An extensive range of clients keeps things interesting, project after project. Rob describes the satisfaction that comes with making a product from start to finish. There's nothing quite like designing, printing, then finally holding a physical incarnation of an artistic vision.
Rob is an artist member of the Center for Book Arts in New York, and a member of the Letterpress Guild of New England. He has shown his fine artwork in galleries across the country, has taught printmaking at the Museum of Fine Arts, Boston's Adult Learning Program, and has been a visiting artist at the Museum School, Massachusetts College of Art, Art Institute of Boston, the University of New Hampshire, and Endicott College.
Goosefish Press is located at 450 Harrison Ave, #65. If you're interested in a consultation for custom invitations or other work, you can email Rob at rob@goosefishpress to schedule an appointment. If you would like to visit Goosefish Press, call (617) 728-2822 to check if they're open!